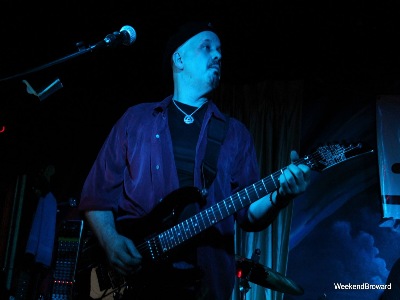 A native of South Florida, Rick is an experienced musician who brings talent, energy and appearance to the stage. For over 25 years, Rick has entertained audiences with a wide variety of groups. As early as age 4, Rick knew the direction his life should take after receiving several 78rpm singles during his childhood. Most of which consisted of early music by groups like The Beatles, The Doors and The Stones.

Besides being actively involved in chorus throughout public school, Rick was also involved early on with S.P.E.B.S.Q.S.A. (Society for the Preservation and Encouragement of Barbershop Quartet Singing in America), and sang lead & baritone for Palm Beach County's "COASTMEN" Chorus. During this period ('78-'81), Rick's group won the right in 1979 to compete vocally at the International Level Competition (held earlier that year in Minneapolis, MN.) achieving eleventh best in the world.

Shortly after graduating High School, Rick decided to give up the air guitar in exchange for the real thing. By 1989, Rick helped form "SUDDEN IMPACT", a Classic Rock Band in which he shared the Lead Vocal and Lead / Rhythm Guitar duties while performing in clubs throughout Palm Beach County. In 1990, Rick made the decision to temporarily relocate to Ohio. While there, in 1992, he met and teamed up with Keyboardist / Vocalist Rick Ballas to form the Pop / Dance / Rock / Acoustic Duo "INSIDE OUT". This was Rick's first exposure to performing live with the earliest type of sequence known as a "Midi" File. After having endured a few harsh winters, Rick began hearing his home state of Florida calling his name.

Then in 1993, Rick returned to Florida and worked aggressively to assemble the Postmodern Blues Group called "MIDNIGHT HOUR". After paying homage to his Modern-Day Blues influences, Rick then began to search for a more "original" sound by combining "Blues Roots" with the sounds of today. That led to the creation of "THE SOUL SHAKERS".

A short while after this group had made the decision to depart into different directions, and while he was in the planning stages of developing a dynamic and never-before-seen solo act, Rick in the meantime, had entertained the idea of helping to start the local R&B / Dance group called "SOUL MOTION" by becoming its original Guitarist & Lead / Background Vocalist.

Finally, after many years of dedication, persistence and live experience with many different musical genres, Rick feels like he has now come into his own as both a musician & entertainer, and has now launched what he feels has evolved into one of the Premier Live Solo Acts in South Florida "RICK THE SHAKER" & "THE MUSIC SHAKER"! Whether you prefer a performance "WITHOUT TRACKS" (RICK THE SHAKER) for a more intimate "Solo Only" sound or a truly Authentic & Live "Full Band Sound" "WITH TRACKS" (THE MUSIC SHAKER), this will provide listening audiences everywhere with a very unique & modern styled "One Man Band" experience!